So Taritai scared the bejeezus out of me in the Cloister of Fire. I'm trying to lure her to Garuda from Shiva! Heheh. She's so entertaining. Wish I could make the text bigger to read.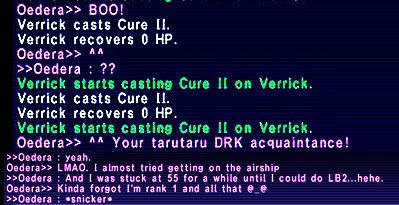 So yesterday I finally got my last whisper, Ifrit! Thanks again to the LordsofHydra Linkshell for helping me do this. I feel like a leech sometimes, all I do is buff and heal. Have the RDM/NIN do all the hard work. And the BLM/WHM finish them off with AM.




I bought out all of the Guguru Tuna on the AH throughout Vana'diel to skill up on Tuna sushi. Got to 73.2 on about 11 tunas. So I tried to go and get my own although I'm only level 18 fishing and it caps at 41. It required fishing off the ferry so off I go. I actually catch 4 but during one part of the ride I didn't notice the sea horror. So death to tarutaru again. That leaves me only 9K exp (about 2 deaths without reraise or raise III) before I delevel to 74. Time to change back to exp rather than limit points.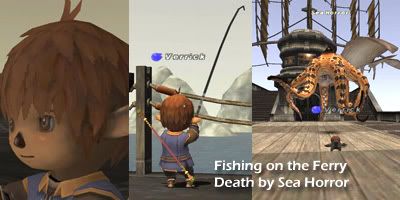 So I level with part of my static last night. It was actually my real life friends. It was five of us, two NIN/WAR, WHM/BLM, SAM/WAR, and DRK/WAR. We were killing worms in the tunnel. I was kind of high so the exp wasn't that great but we managed to get everyone up to level 19 I think.



| | |
| --- | --- |
| | I snaped this picture while we were waiting on MP. Alcindor was "hiding" the worm. I'll leave it up to you guys to come up with an interesting title. |