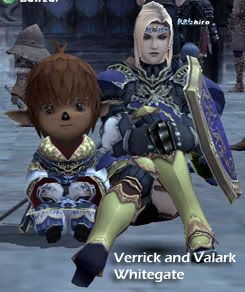 I was just sitting around in Whitegate yesterday when all of a sudden I see Valark waves at squally. Now normally I would not have been paying attention to emotes but squally had waved at me a split second earlier. SO I had finally found the elusive Valark! I sent her a tell saying "oh wow, it's Valark!". And she sent back an lol. She had sadly run into her mog house. I asked her if she could come back out so I could take a picture of her. She obliged and the result is sitting in front of you. She gave me some fireworks and then went to log.

Now I have not really had much interaction with her. But I read the Allakazham boards frequently and she is such a helpful person. Everyone has really nice things to say about her. Once or twice I have had her comment on my posts on ffxi-gardua.com and it feels like the guru of Garuda has noticed me :-) Now if only I could have found Daffney before she went on hiatus. She's another Garudian that is held in high esteem.

Thank you Valark for making my day!