Well today was a first. After I think 10 separate runs, LordsofHydraDynamis (note the creative name) beat Dynamis-San d'Oria! We had about an hour left by the time we reached Reapertongue Gadgquok a SMN NM who triggers the final boss. The last time we did San d'Oria we had reached this point with a few minutes left and the charmga got us and we wiped after the avatar 2HR. This time we reached him with about an hour to spare. The first time we pulled him, we got him down to almost death before he 2HRd and wiped us. However, more people had reraise items this time, and we were up and running. We defeated the sucker (in no time flat the second time) and triggered the Overlord's Tombstone. This one went down pretty quickly! So I finally have a Dynamis win! Kudos to Linkamule, Fade, Vlacatocc, and Lorddocster for nice leadership.





The second most exciting thing about this Dynamis is that ... I have my second piece of AFv2. This time my cleric's cap dropped! So now I have both the hat for BRD and WHM. This cap is definitely taking the place of my gold hairpin until I can get a whalara turban (which will be forever since I don't party in the new areas much). Plus the -emn is pretty nice on it. It just looks a little funny with the noble's tunic (but it's not as bright red as the regular AF).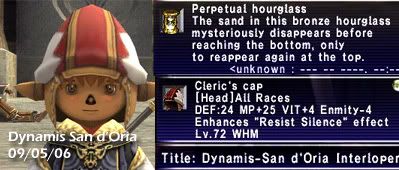 Other news. I've slowly leveled leathercraft on Sarn to 43. Need to make more wool thread to get to 49. Then back to fighting tigers to get tiger hides. My BLM deleveled down to 41 (had only bene like 72 into level) due to some deaths during Under Observation. However, no peacock charms dropped. Slowly turning in GP items, getting close to hat in cooking. Yesterday I was farming rams for ram skin and I ran into Lanoire leveling her WAR. She was in her metal bikini and whacking things. I figured I'd post a picture of her to end this post. Still excited about the Dynamis win!